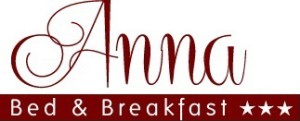 Terms of conditions
In the moment of the reservation you should send us a deposit of the 50% of the entire amount of your stay.
The deposit can be paid by:
Bank transfer
Credit Card – Visa, Visa Electron, Mastercard, Maestro
PayPal
We will give you IBAN code in the moment of your reservation.
Reservation is considered valid when we will receive the payment receipt by email in 24 hours from your request. Then B&B Anna will send you a confirmation by email.
The rest of the payment should be done by cash on arrival.
Terms of cancellation
Cancellation or reduction of a confirmed reservation must be communicated by email to B&B Anna info@beb-anna.com or by fax +39-011-646007.
Up to 15 days before your arrival in the B&B Anna, it's possible to cancel or reduce your reservation, without any charge. In this case, we will return the amount paid for deposit, with the exception of fees (es. Credit card fees).
For cancellations or reductions of the stay communicated under 15 days from the date of arrival, the deposit will not be refunded.
If the guest arrives and stays a number of nights less than the nights booked, he/she has to pay the full amount of the stay.
 Notice
Beb & Breakfast Anna is a little host structure and it doesn't have the opportunity to provide a 24 hours service of reception.
For this reason, in case of confirmation of your booking, you should tell us about the time of your arrival in B&B, so we can welcome you.